Overview
Pollution can make the air we breathe bad for our health. Air pollution has been a problem in Bristol and many UK cities for a long time.
The most concerning pollutants within Bristol are nitrogen dioxide (NO2) and very small particulates. These pollutants are invisible.
UK and EU limits on levels of NO2 are currently breached in Bristol. Local authorities are legally required to reduce levels of NO2 as soon as possible to comply with these health-based standards and this consultation is concerned with reducing the levels of NO2 in the shortest possible time.
What we are proposing
We are proposing two alternative options, which our work so far shows would bring NO2 levels to below legal limits in the shortest possible time. (This is known as achieving "compliance".) The council is under a legal duty to achieve this.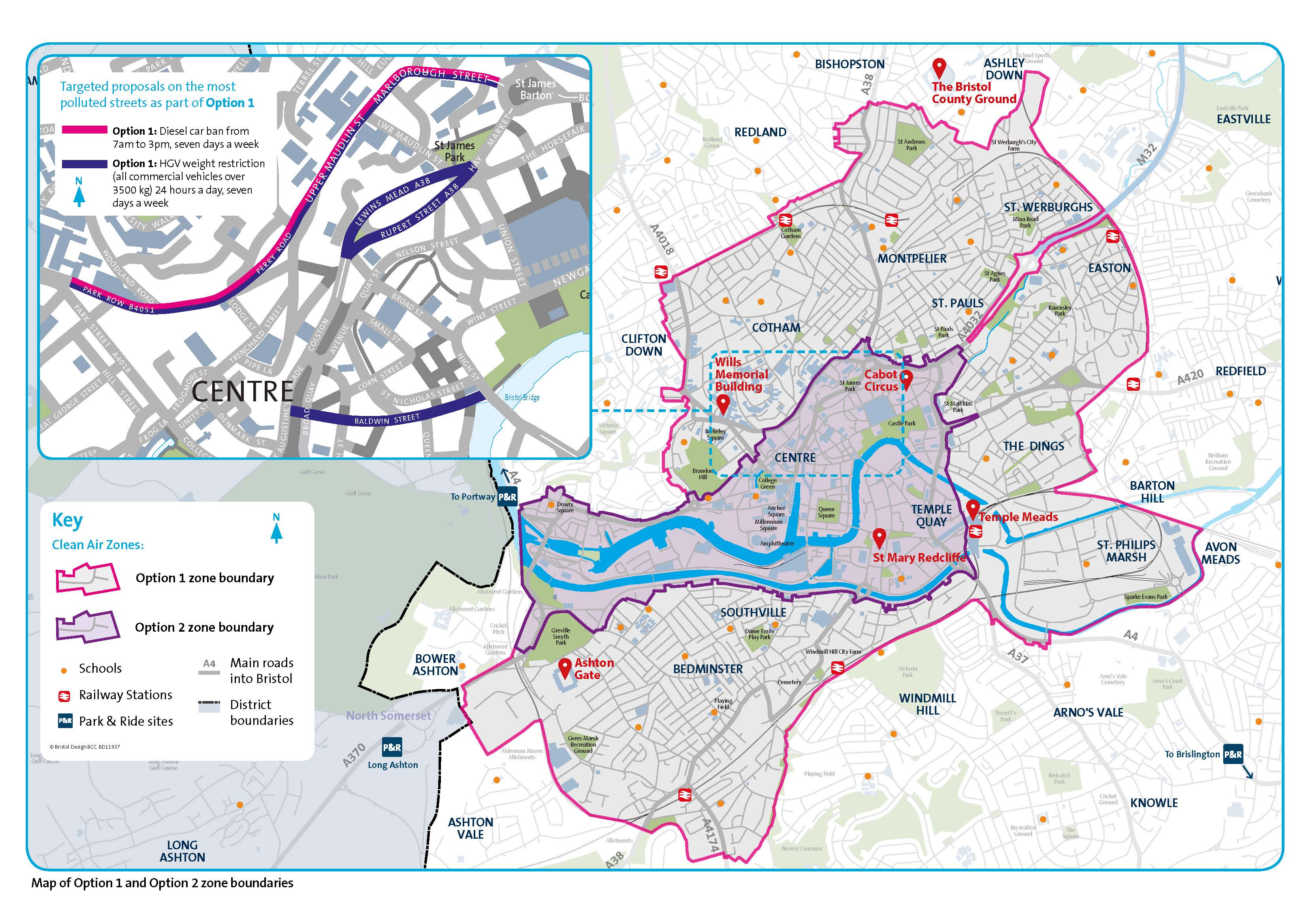 Option 1 Clean Air Zone (private cars not charged)

A zone in which non-compliant (older, more polluting) buses, coaches, taxis, heavy goods vehicles (HGVs, i.e. goods vehicles over 3,500 kg) and light goods vehicles (LGVs, i.e. goods vehicles not exceeding 3,500 kg) would be charged a fixed sum for each day they are driven in the zone. The charge would only apply once daily. We propose that the charge would be £9 per day for non-compliant taxis and LGVs and £100 per day for non-compliant HGVs, buses and coaches.

Option 1 would also include a scrappage scheme (up to £2,000) for diesel cars and a number of additional targeted measures to reduce pollution on the worst affected streets. These additional targeted measures include a part-time ban on all diesel cars on Upper Maudlin Street and Park Row (in front of the children's hospital); some new HGV weight restrictions; bus lanes on the M32 and Cumberland Road; and using existing traffic signals to control the amount of traffic entering congested areas with poor air quality.

Option 2: Diesel car ban

Banning all diesel cars from driving in a specific central area from 7am to 3pm, seven days a week (this would not apply to taxis/private hire or emergency services). Other measures, including a scrappage scheme, could also be included.
We are consulting with you now on these two options in order to meet the Government's timetable for submitting our Outline Business Case in September 2019.
Updated information on compliance dates
The technical work required to estimate the dates more precisely has now been undertaken. This work (updated 2 August 2019) indicates that the compliance date for Option 1 will be 2029 and for Option 2 will be 2028. The technical work shows the majority of roads in Bristol are predicted to meet compliant levels of NO2 before the compliance dates (Option 1 in 2029 and Option 2 in 2028). Because of how close together these dates are, more technical modelling on each option (known as sensitivity tests) is needed to reach a definite view on which option would reach compliance in the shortest possible time.
The technical work to estimate compliance dates includes a park and ride on the M32 in Option 1 (location to be identified).
You can read more about compliance dates in the technical note updated on 2 August by the council's engineering consultant, Jacobs.
Clean Air FAQs
We have answered commonly asked questions about Clean Air in the Clean Air FAQs.
Why We Are Consulting
The Traffic Clean Air Zone consultation is your chance to tell us what you think about the options we propose for improving air quality in Bristol.
Your views are important and will be considered by the Mayor and Cabinet when they decide in September 2019 what approach to include when the council submits a Full Business Case to Government in the coming months, setting out how it will achieve compliance in the shortest possible time.
Please complete the online survey and return to us by Monday 12 August using the link below.
If you cannot complete the survey online, you can request alternative formats by emailing transport.projects@bristol.gov.uk or by calling 0117 352 1397.
We have also produced an easy read version of the survey.